This page is best viewed on
Driving Past Highland Park can be misleading. Often times people have no idea what all is really back on this little corner of Sellersville because it appears so small. It's hard to believe it takes up a whole 19 Acres of land! Once you come inside, you'll be amazed at how gigantic this tiny little piece of campground is! Highland Park was founded in 1893 by Methodists who wanted to hold evangelistic meetings. Initially, the people stayed in tents, and met in one giant tent, but in years to come, permanent structures were built. Many of these structures still stand today, with little or no modifications made to them. Come and see the incredible living time capsule that is Highland Park Campmeeting.
Snackstand Area
Stop by after a Concert, and enjoy some delicious ice cream or soda. During Campmeeting Week, the snackstand is open during the early afternoon, 6:00-7:30, and 8:30-10:00 p.m.
The Recreation Field
Highland Park's Volleyball court has seen some pretty epic games over the many years. In the past, this court was covered with gravel, but in the early 2000's, it was covered over with sand, which is sifted and replenished each year, and is used each year for our Youth Camp, as well as many retreat groups which use it for their activities. The Recreation field also has a small basketball court, tetherball pole, and shuffleboard court, which were recently refurbished by our friends at Imago Dei.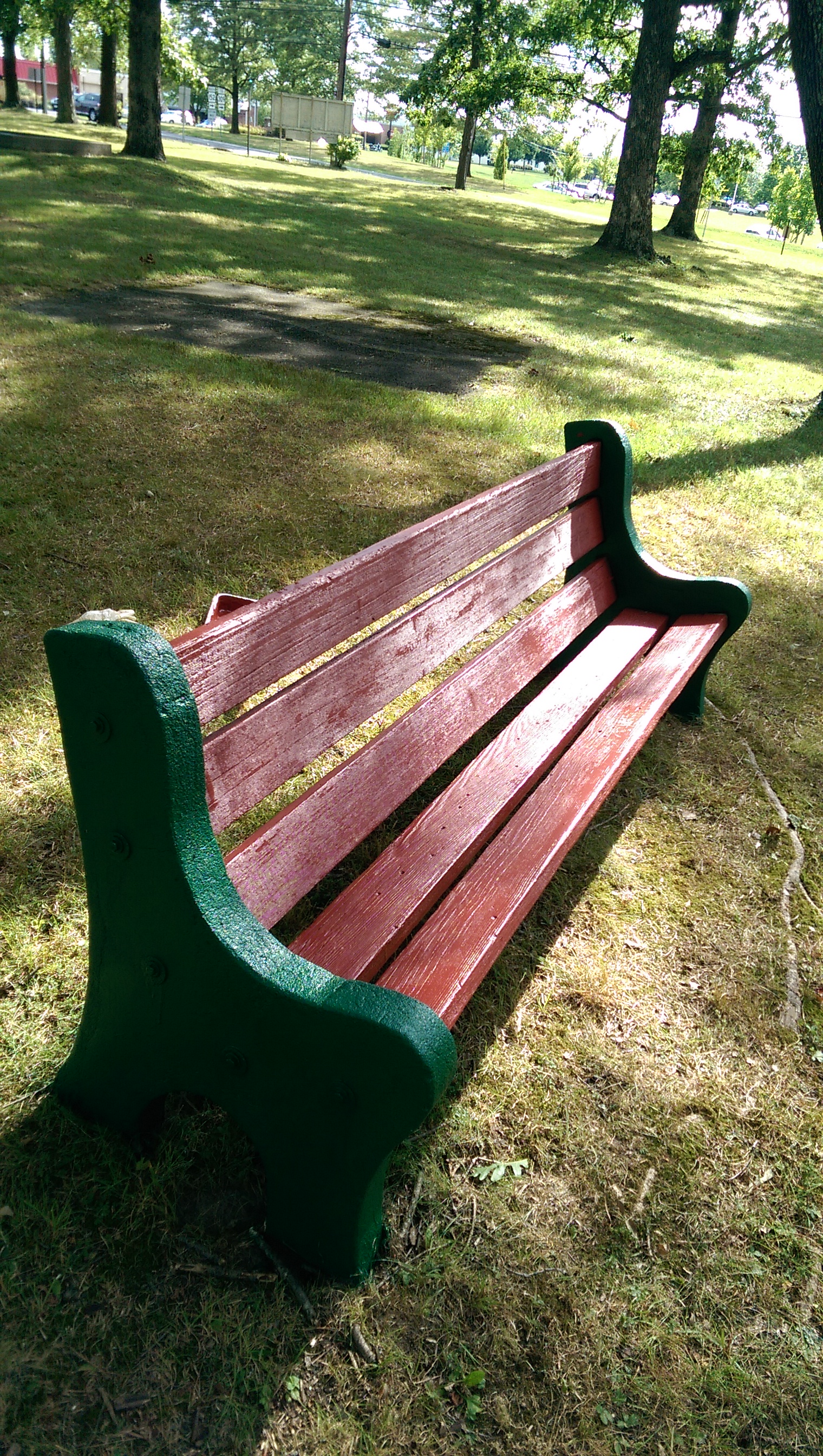 The Tabernacle
Our beloved Tabernacle has been around for over 100 years. It has seen a vast group of people, heard a lot of preaching, and felt a lot of tears, as people of all ages began and endured their walk with Christ. This beautiful amphitheater can seat an audience of roughly 500, and is located at the center of Highland Park. It can be seen by almost any building in the park. It is wired with a solid electrical system, has a newly poured concrete floor, and can be equipped with a versatile PA system (by request).
In August of 2014, the Tabernacle had to be used as an alternate location for the Youth Camp's "Night of Silence" service. The Youth Staff transformed the Tabernacle into a candlelit sanctuary, in order to give its campers the most authentic experience they could.

The Dining Hall
The first building that you see when you turn into Highland Park from Bethlehem Pike is our Dining Hall, one of the few facilities at Highland Park that is not the original structures. Equipped with a robust kitchen, the Dining Hall can comfortably seat up to 200 guests. This building is winterized, and does has working heat, along with a gigantic fireplace, and also has several ceiling fans to help circulate air in the winter time. It is also equipped (by request) a PA system and a projector screen. The Dining Hall at Highland Park is home to all of its meals served at Highland Park Campmeeting, as well as a number of dinners and special events held throughout the year. You can still see all of the banners inspired by the Campmeeting Themes since 1990 (Created by Kellie Leight and Cindy Morlock).
The Chapel in the Woods
The Chapel in the Woods is one of the things that makes Highland Park truly unique. As you walk through the arbor off the main circle, you'll follow a path that takes you to a secluded clearing shrouded in green, where you'll find an alter, a pulpit, and 24 benches. For years, this chapel has been used by the Youth Camp for Devotional Services and for it's powerful Night of Silence service. During the year, it is an ideal venue for a wedding ceremony. A single electrical outlet is available so that a sound system can be connected.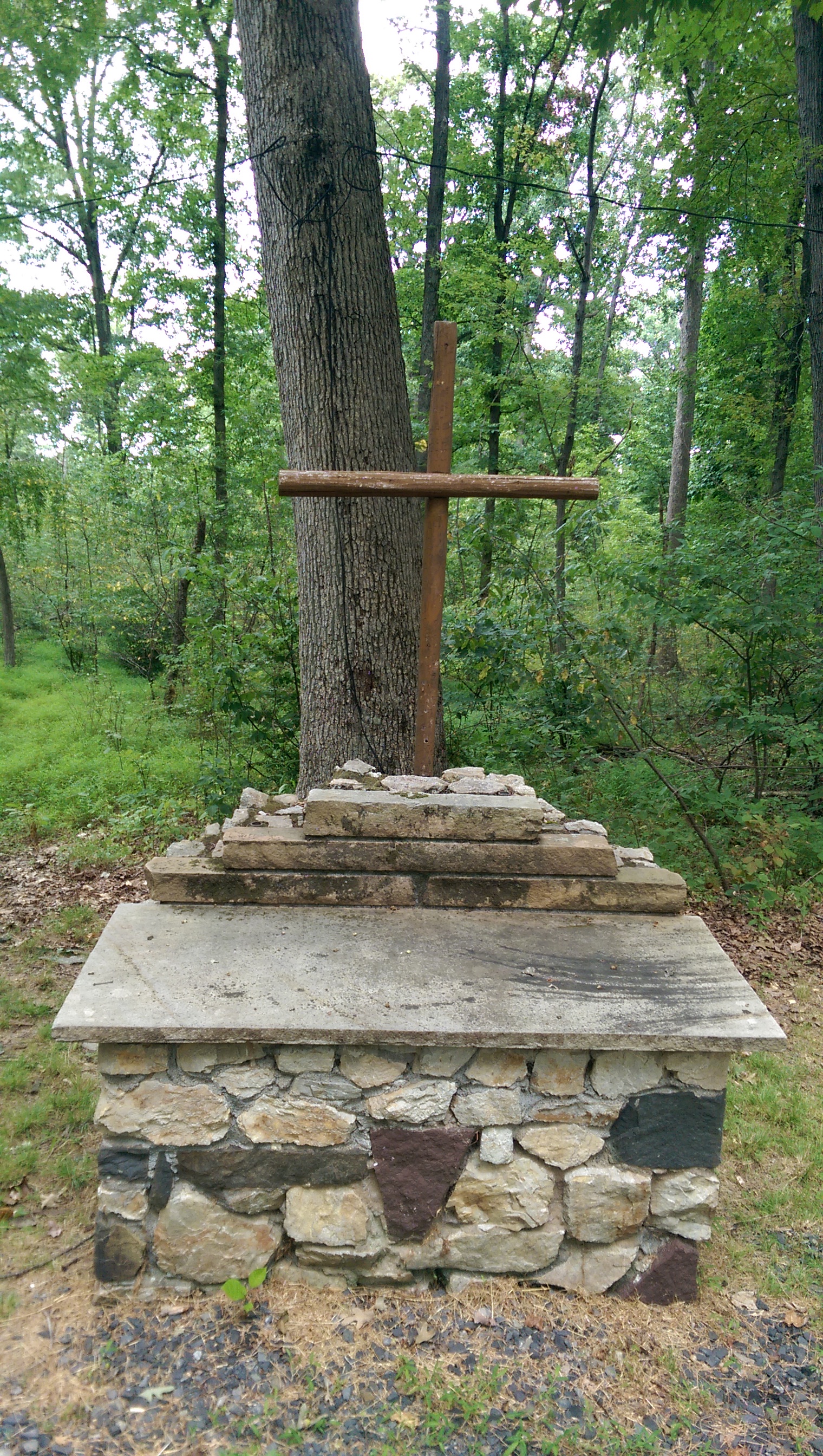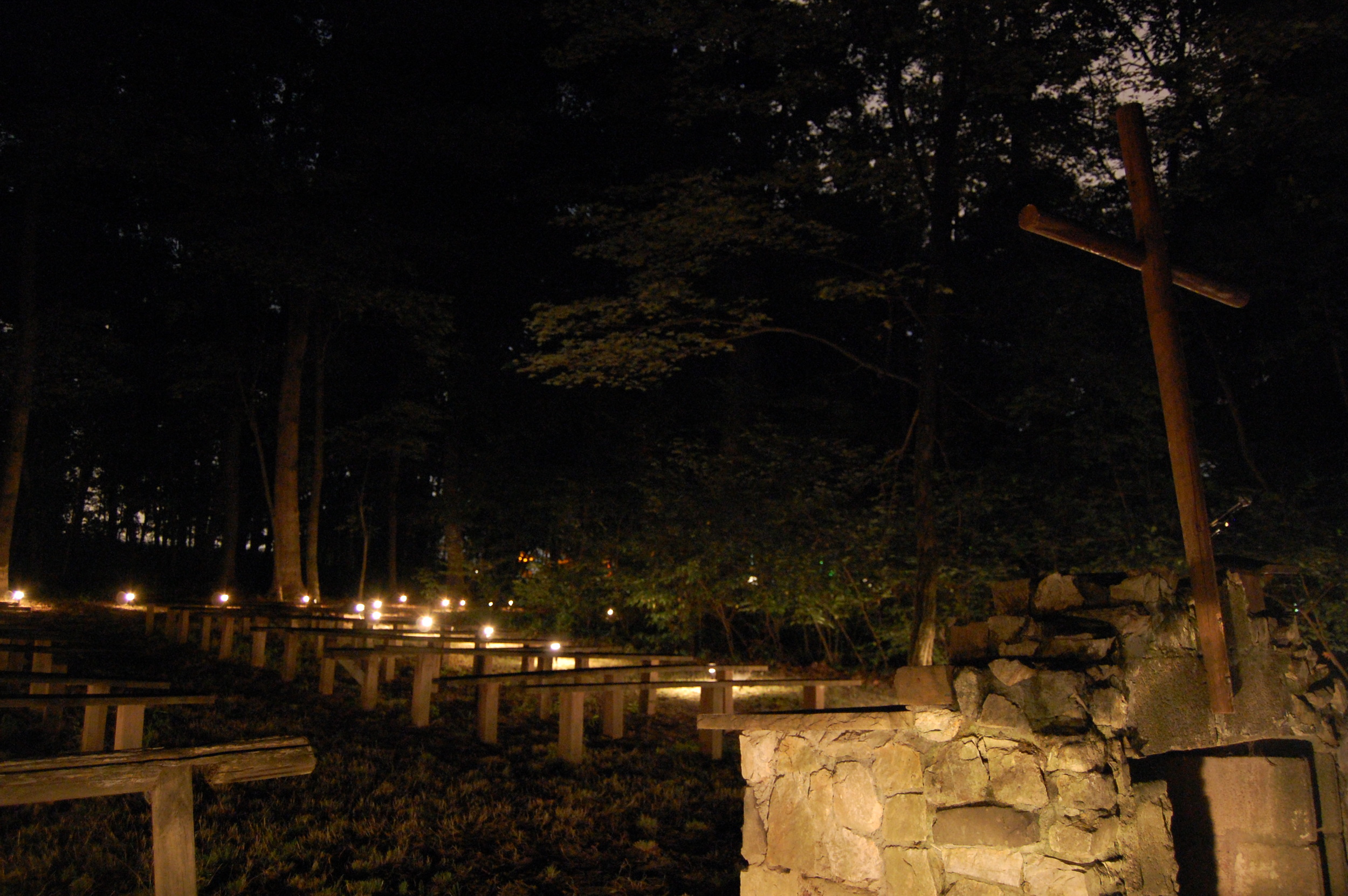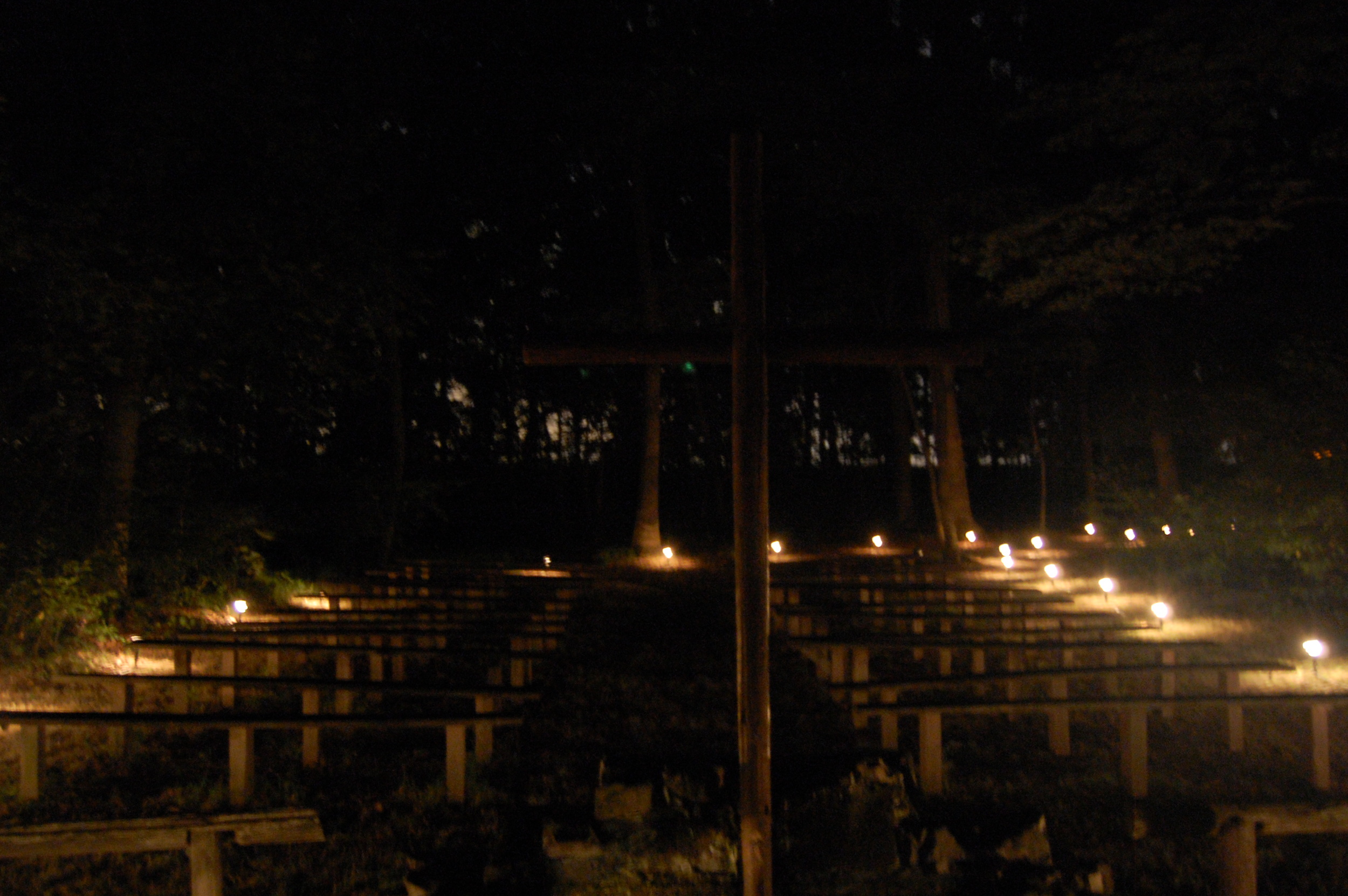 Please enjoy some of these other fantastic shots around Highland Park. It's a huge place, with a lot of beauty to show off. If you have questions, please feel free to send a message on our Contact Page!
Pavilion
Many of these facilities are available to rent. For more information, please check out our rentals page HERE.